If the latest figures are any guide, Ireland has fallen out of love with cash during the Covid Pandemic. Over 2.2 million contactless payments were made every day in May, new figures from Banking and Payments Federation Ireland show today.
BPFI said this marked the highest daily level since its contactless data series began in 2016.
May saw a total of 67.2 million contactless payment made over the course of the month worth over €1.078 billion.
Today's figures also show a jump of 73% in the monthly volumes of contactless payments year on year with the value of these payments rising by 82% to almost €1.1 billion during the same period.
The average payment value exceeded €16 for only the second time since the data series began at €16.04, BPFI noted.
"The increase we have seen in contactless spending during the course of May likely reflects the easing of Covid-related restrictions on many businesses, including retail and personal services, during this period," Brian Hayes, chief executive of BPFI said.
---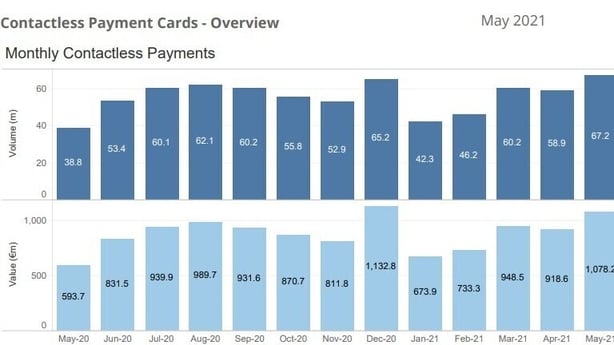 ---
"This is supported by daily data from the Central Bank of Ireland which indicates that in-store card spending grew strongly in May," Mr Hayes added.
Using contactless payment does have the advantage of paying without worrying about someone else seeing you key in your pin. It is also safer in terms of viruses on cash and payment machines. While the limit on these payments was increased to €50 to encourage contactless payments during Covid consumers in Ireland are increasingly using Google and Apple Pay which have no upper limit and can be used on Smartphones and watches, meaning there is no danger of losing your card. Also if you have cards in other currencies they can be used on these apps giving you the options of potentially paying in Euros, Dollars or Sterling, ideal for expats and travellers.
Got a story for us?
Then why not get in touch, you can email your stories to editor@whatsoninwestcork.ie or you can send us a message on social media.